In this article, we will be discussing the 10 ways to get your daily CBD dosage in 2020. In addition, I will do my best to give you the pros and cons of each method based on my personal experience.
Then we will dive into discussing the various extraction methods and what to look for when making a decision to purchase. Remember, safety comes first, above all else.
It's important, especially if you are looking to become a new CBD customer to make sure you do your best to dot your I's and cross you T's when it comes to making a purchase decision because trust me when I say this, not all CBD products are created equal. So choose the best CBD delivery method for yourself from among the 10 ways to get your daily CBD dosage in 2020 and you'll have a great experience. 
The explosion in CBD sales especially here in the USA has unfortunately attracted some bad apples whose intent is to just make a quick buck and not care about delivering a quality CBD product or the person who buys it. Sorry, but there just isn't enough regulation yet, but I assure you it's coming, and once it does, it will quickly clear out the playing field so you, the customer will have confidence knowing each CBD product has met with the standards set forth from the FDA and other regulatory bodies.  
What you don't know could end up costing you money and leaving a bad taste in your mouth about your experience with this miraculous botanical.
The FDA randomly tested some 38 CBD products in 2015 and 2016 and found that 70% of those CBD products tested FAILED to list the proper amount of actual CBD in the bottle. In other words, they were caught selling a bottle of oil with little to no CBD. How would that make you feel if you spent $100 for $2 bucks worth of oil?   
See article: (products with low CBD content according to FDA testing)
Allow me to offer up a few words of advice. If the CBD company you're considering has an instant chat or toll-free customer service number, make sure to get all of your questions answered to your satisfaction prior to completing your purchase, if the answer to your question is not listed in the company's FAQ section.
I don't mean to cast a dark cloud over the CBD industry and it's certainly not all doom and gloom, just be cautious and make sure you take your time and buy from a reputable and well established CBD company, and by all means, get some recommendations or read the reviews from people who have had a positive buying experience.
I am personally aware of about a dozen or so really great CBD companies to choose from who are thoroughly invested in manufacturing premium quality CBD products which are extracted correctly, and third-party lab tested. I'll save my top picks for another post but for now its time to get what you came here to learn.
Many of the leading CBD companies are taking a proactive role in educating the consumer and taking the initiative by printing QR codes directly on their product labels which can be scanned by any smartphone, providing proof that the particular batch of CBD was previously tested by a third-party lab for purity and strength. Many in the CBD industry feel this will be a mandatory requirement by the FDA for every CBD product that is sold in the near future. We support this measure without hesitation. 
Top 10 Ways to Get Your Daily CBD Dosage
CBD Oil in a bottle, otherwise known as a Tincture.

CBD Water Soluble

CBD Edibles – gummies, honey sticks, mints, candies, brownies, and cookies

CBD Instant Drink Mixes

CBD Infused Coffee & Tea

CBD Soft Gels

CBD Topicals

CBD Vape Products

CBD Patches

CBD Hemp Flower Pre-rolls
CBD Oil Tincture
(pronounced tingk⋅chr)
According to statistics, more than 40% of all CBD products sold came from customers who purchased their CBD in an oil form known as a tincture. The dosage of oil is taken in drops placed directly under the tongue which is called sublingual delivery.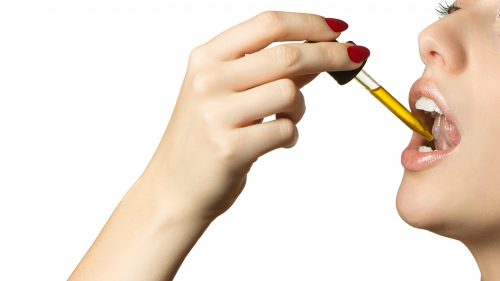 The sublingual delivery method enables the CBD to get into your bloodstream much faster than taking a capsule or consuming an edible because the oil doesn't have to be digested first and processed through the liver. There are multiple sublingual ducts located under the tongue which absorb and speed up the delivery of the CBD into your bloodstream. (see illustration below)
It is recommended that you squeeze in the correct dosage of CBD oil using the measuring dropper that came in the bottle directly under the tongue and leave it there for 30-60 seconds minimum, then swallow the remaining CBD.
Taking your CBD this way will ensure you get some immediate benefit, followed by a longer benefit once the balance of the CBD oil you swallowed kicks in after passing through your digestive system and liver. Allow 45 minutes to an hour to feel the after-effects.
CBD oil is now sold in a variety of flavors, so there's a good chance you'll find one suitable for your taste buds. I'm still a fan of the natural flavor because of its more earthy taste, but just make sure if you do order a flavored CBD oil that its made with all-natural flavorings and not the artificial stuff. The carrier oil is also important, so pay attention to the label to know which kind of carrier oil the manufacturer is using. 
All CBD oils require a carrier oil in order to transport the CBD into the body because when its extracted from hemp, it is highly concentrated and generally very thick. It has to be diluted in order to be administered orally and since CBD is oil-based, it mixes easily with a carrier oil. It is highly recommended that you shake up the bottle before each dosage in order to get a consistent amount of CBD in each serving. 
Types of CBD Carrier Oils
Hemp Seed Oil (processed from hemp seeds and adds a nutty flavor but has less bioavailability than MCT oil)

MCT Oil or Medium-Chain Triglycerides (is fractionated from coconut oil, yet it has little to no coconut aftertaste and is healthier for the brain. In addition MCT oil has a higher bioavailability than hemp seed oil)

Olive Oil (yes some companies actually use olive oil as their carrier oil)

Sunflower Oil (good source of unsaturated fats)
As long as the CBD oil you are thinking about purchasing uses the above carrier oils, you should be good to go. I have tried them all, and my least favorite is olive oil. Imagine frying an egg in olive oil. Need I say more?
My favorite brand of CBD oil uses MCT as the carrier oil and I prefer it because it doesn't have any aftertaste. If you buy a CBD oil made with hemp seed oil then it will have a definite nutty aftertaste. You would think that using hemp seed oil would be the carrier oil of choice but actually, it's not because the majority of the volume of oil you are putting under your tongue is not CBD, in fact, the majority of your CBD Tincture is the carrier oil that the CBD is in. 
MCT is in fact a water-soluble oil and since our bodies are compromised of 75% water, which makes up 90% of our body weight which stands to reason that a water-soluble CBD carrier oil is easier for the body to absorb. Hemp seed oil is a monosaturated fat meaning it is not water-soluble. it's great for cooking, but not as a carrier oil for CBD. It doesn't take a genius to know that water and oil do not mix well.   
Conclusion:
If you plan on purchasing a CBD Oil Tincture, try for one that has MCT as the carrier oil and also check to see if the label has a QR code that can be scanned to pull up the lab report for that particular batch. You want to make sure its solvent-free, pesticide-free, microbial free, no heavy metals, and finally the actual milligrams of CBD it has by volume. If the price seems too good to be true, then raise the yellow caution flag because manufacturing a high-quality CBD product is not a cheap process.